[Update: the good news, if you read the comments below, is that Bradley's is safe until at least 2018. So even I might get around to visiting it again.]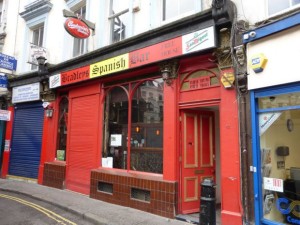 Hanway Street, a narrow little cut-through (that hardly anyone actually uses to cut through) between Oxford Street and Tottenham Court Road, has just been bought by developers, and that means another of London's institutions will be swept away.
That is Bradley's Spanish Bar, a place that I haven't been in for nearly 20 years, but which has huge, fond memories of when I worked in Covent Garden and Soho in the late '80s and early '90s.
Bradley's was one of those places where you met up with friends, because it was a memorable place; once you'd been you never forgot it. Continue reading →