Directly across the road by the Tower of London, hard by the tube station is the Tower Hill Memorial to sailors of the merchant navy and fishing fleets who were killed in the two World Wars and who have 'no grave but the sea'. (See Google maps.)
There are over 35,000 names inscribed in the Memorial's two sections; just under 12,000 from the First World War and around 24,000 from the Second. Although overall British casualties in WW2 were substantially lower than in the Great War, the losses of the merchant marine show the dependence of Britain on imported goods and materiel during the conflict, as well as the ferocity of the German U-boat and naval assault on British shipping. Both sides knew that Britain could be defeated if starved of food and resources.
Despite its location, the memorial is not visited much by tourists; walk through the metal gates and you will be in a peaceful enclosed space that seems insulated from much of the traffic and city noise. The original memorial, opened in 1928 by Queen Mary, is quite dark and enclosed, taking the form of a vaulted corridor with 12 bronze plaques on which are listed the names of the dead.
The design of this original memorial was the work of Edwin Landseer Lutyens, the architect behind that apotheosis of Empire, the imperial capital of New Dehli. More relevantly, he was also the architect of the Cenotaph, the memorial to the Great War that stands in Whitehall and the Thiepval Memorial to the Missing of the Somme, the huge structure that commemorates over 72,000 soldiers killed in the battles of the Somme who also have no known grave.
After WW2 the memorial was expanded, and the new addition is in significant contrast to Lutyens' original. This is a semi-circular sunken garden, with the names of the dead listed on the walls. Where the WW1 memorial is dark and enclosed, this is light and open, and feels more like a place of reflection than its imposing sibling. The design of this section was by Sir Edward Maufe, the architect of Guildford Cathedral and of the Air Forces Memorial at Runnymede. This part of the memorial was opened by the Queen in 1955.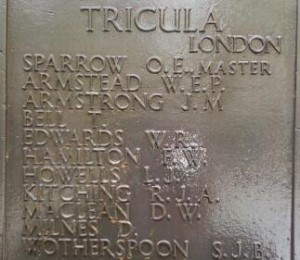 On the south wall of the memorial, on panel 111, is a listing for the Tricula, a small tanker that was sunk on 3 August 1942, some 250 miles northeast of Trinidad by the U-boat U108. 47 died, including my uncle, "Fifth engineer officer" Donald Milnes. He was 22.
Links: