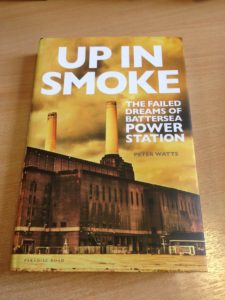 I have a terrible confession to make, one that will see me shunned by London society, if not drummed out of the city altogether: I don't actually like Battersea power station.
Giles Gilbert Scott's brooding brick behemoth by Chelsea Bridge has always been too squat, too square for my tastes. His Bankside power station (now the home of the Tate Modern) is wonderfully proportioned, its single chimney in tasteful contrast to the bloated glass towers on the other side of the river.
And if it were not for its chimneys, would anyone give a stuff about Battersea? Their elegant flutes are (for me) the sole redeeming feature of Scott's earlier building.
Continue reading

"Book review: Up in Smoke by Peter Watts"