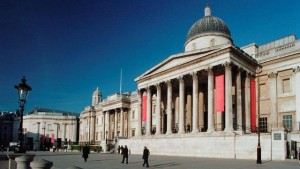 The entries below all come from another part of the Blue Badge guiding course that I started in September 2014.
As well as being able to guide people around sites in London, we have to be able to conduct tours of the National Gallery, talking for about 5 minutes on 20 paintings that are representative of the development of Western European art.
We have to be able to do this without notes, so it means learning quite a bit about the pictures and the artists, and being able to express this in a reasonably engaging fashion. This isn't art history – it's about trying to communicate information in an entertaining way with the hope that one's listeners both learn something they didn't know and enjoy the experience.
As I work my way through the 20 pictures I'll post my notes up here. Once done I'll link them so they follow the route that would be done in the Gallery (they'll be posted here out of order).
All images are taken from the National Gallery website and link through to the larger images on their site.
The National Gallery was established in 1824 – relatively late compared to other major European cities. It came about when the artist and collector George Beaumont agreed to leave his collection to the nation, but only if the government purchased the collection of the banker John Julius Angerstein and provided suitable accommodation for the collection. In April 1824 Parliament voted to spend £57,000 for Angerstein's collection and to take the lease on his old home at 100 Pall Mall to house it. Beaumont's smaller collection joined this one in 1826. Continue reading "The National Gallery"