Of course the damn thing is utterly absurd.
Every criticism of high victoriana – over-sentimental, over-decorated, over-elaborate to the point of fussy, over size – applies in spades. If it were half the size it would be laughable. And yet … it's magnificent; utterly absurd, but magnificent.
This is the Albert Memorial, that sits in Hyde Park like a gothic Thunderbird 3 about to launch.
It's by George Gilbert Scott, (he of St Pancras station, the Foreign Office, St Mary's churches in Kensington and Stoke Newington etc etc), and it commemorates – the clue's in the name – Albert, Prince Consort, the lamented husband of Queen Victoria.
Albert of Saxe-Coburg and Gotha (1819-1862) was widely regarded as one of the most brilliant men of the age. Victoria – who was his cousin – married him in 1840 and they had nine children. On his death from typhoid fever she was utterly bereft, virtually retreating from public appearances for a decade and wearing mourning black for the rest of he life.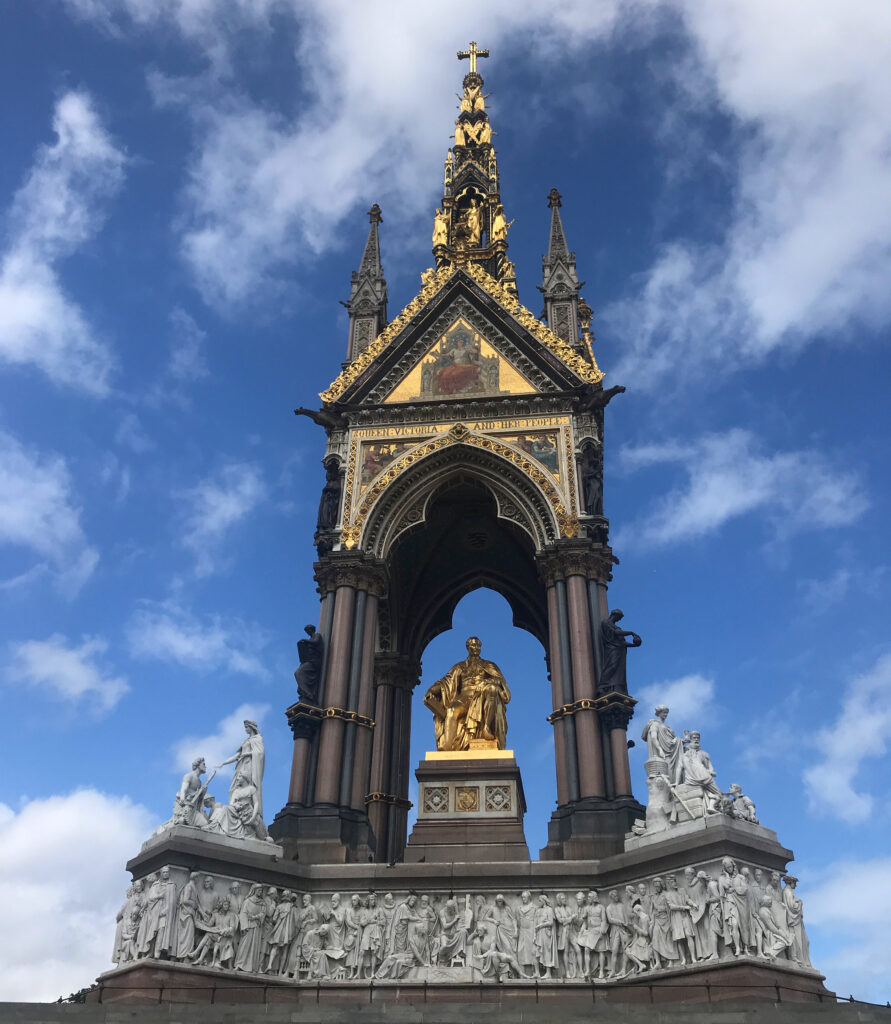 Possibly the achievement for which he is most famous is as one of the prime movers behind the 1851 'Great Exhibition of the Works of Industry of all Nations'. This celebration of modern industry and design was held in the Crystal Palace in Hyde Park and was an extraordinary success. The profit generated for the 6 million visitors helped fund the artistic and cultural institutions – including the South Kensington museums, Imperial College, the Royal College of Art, the Royal Geographical Society and more – in what become known as Albertopolis, the area running down from the park to the Cromwell Road.
And it is towards Albertopolis (and the similarly eponymous Royal Albert Hall) the gold statue of the prince is looking, a copy of the catalogue of the Great Exhibition by his side. The base of the memorial is known as the 'Frieze of Parnassus' (Parnassus being the home of the muses in Greek mythology and so referring, by extension, to cultural and artistic achievement). There are 169 composers, painters, poets, architects and sculptors immortalised in the frieze, the full list of which can be found here (Scott himself makes the cut; there is one woman- and two dogs).
And with the Victorian love of allegory, at the corners of the central part of the memorial are four groups depicting agriculture, engineering, manufacture and commerce (this by Thomas Thornycroft), and representations of four continents on the outer corners of the space (including 'Africa' by William Theed).
The monument itself is modelled on a gothic ciborium, the freestanding canopy that covers an altar or a shrine (thus expressing the 'saintliness' of Albert), and the influence of the medieval Eleanor Crosses is also very apparent. The monument is surmounted by a cross, under which are golden angels, and then more golden figures representing the Christian virtues. The faces of the monument and the canopy above the Albert sculpture are decorated with mosaics made by the Salviati company.