Look towards the Eye from St James's Park (or vice versa), or look upriver from the Golden Jubilee Bridge and there appears to be a huge French chateau on the Westminster side, a long building with mansard roofs puncturing the skyline. (As the National Heritage listing puts it, "a vast elaborate pile with exuberant French Renaissance, Chateaux de la Loire, inspired details".)
This is Whitehall Court. The 'downriver' end is the National Liberal Club, the centre section the Royal Horseguards hotel*, and on the upriver end, opposite the Ministry of Defence, some ground floor offices and a collection of residences above.
The building was developed as a block of luxury apartments in the 1880s by Jabez Balfour, a Liberal Party MP and businessman. The upriver end was built in 1884 by the architects Archer and Green, with the National Liberal Club section completed in 1887 and designed by Alfred Waterhouse, who is perhaps most famous for the Natural History Museum building.
Balfour was convicted of fraud and sentenced to 14 years hard labour in 1895 after the collapse of the Liberator Building Society that he had founded. The society was revealed to be a ponzi scheme; money being lent as mortgages on properties owned by other Balfour companies, the values of which had been inflated, and with the interest on the loans sometimes not being repaid but being capitalised within those loans. Eventually new deposits from investors could not match the dividends being paid and in 1892 the company folded and Balfour fled abroad.
Whitehall Court was, though, a desirable place to live, close to Westminster and Whitehall, and residents included Gladstone, Kitchener and George Bernard Shaw. It was also the home, and sometime office, of Sir Mansfield Smith-Cumming, the first chief of the Secret Service Bureau, the forerunner of MI5 and MI6. Smith-Cumming would initial his papers "C" – inspiration for Fleming's "M" – and wrote exclusively in green ink, a practice that has apparently been continued by his successors.
A blue plaque to Mansfield-Cumming was unveiled on the wall of 2 Whitehall Court in 2015.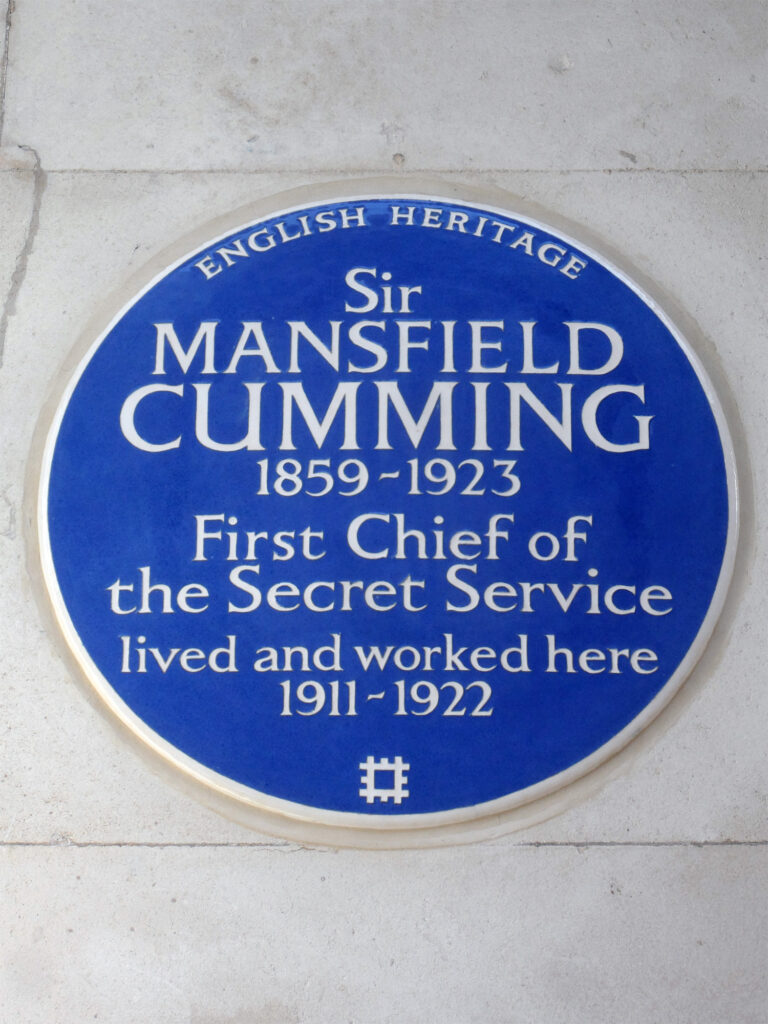 *if you go into the lobby of the hotel and then through the door at the very back of the room on the left (by the concierge desk) you get into the lobby of the National Liberal Club. There you can see the full length portrait of Winston Churchill, commissioned by the club in 1915, but not unveiled (by Churchill himself) until 1943.