Stroll up Giltspur Street towards Smithfield Market and look up to your left at the building on the corner of Cock Lane. In an arched niche in the wall of a late 20th century office building is a golden statue of a chubby little boy.
This is the 'Golden Boy of Pye Corner', a 17th century wooden sculpture (gilded in the 1800s, but previously painted naturalistically) which, according to the Historic England listing also formerly had wings, making the young chap something of a cherub.
(The image below, a 1791 drawing by John Smith, from the Wellcome Collection has a suggestion of wings, unless the objects behind the boy's shoulders are part of the support on which he rests.)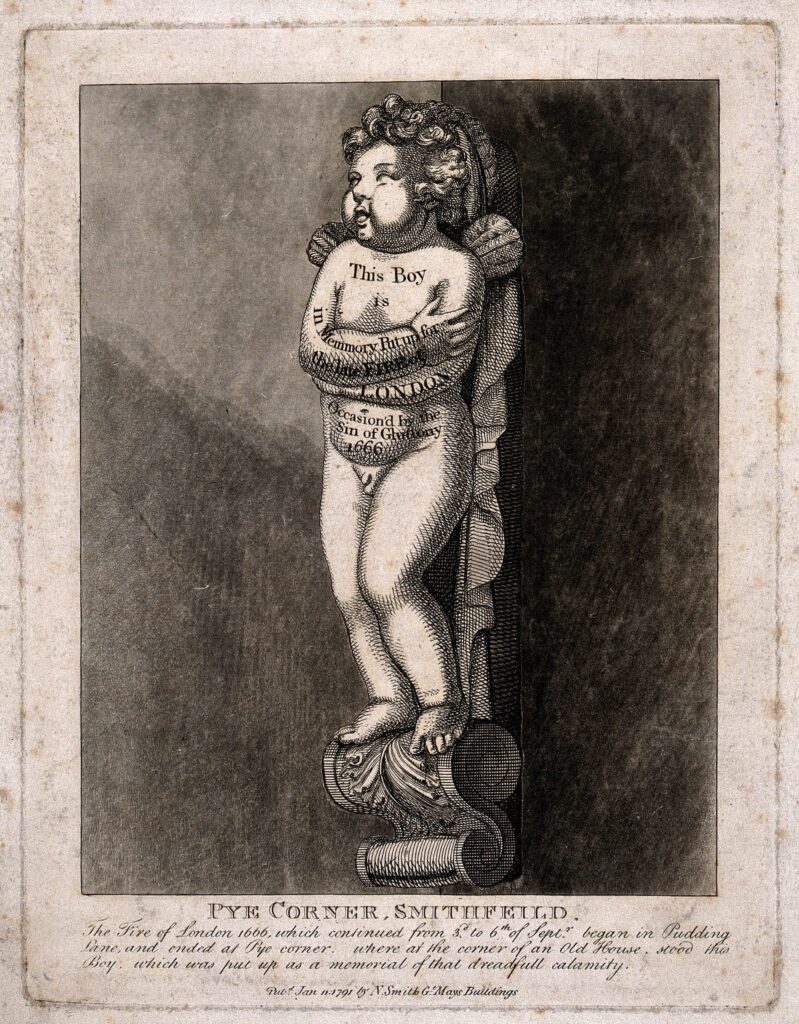 In William Morgan's 1682 map of the City this bit of the street is spelled 'Pie Corner', and is the north western limit of the extent of the 1666 Great Fire. Because the fire could be said to have started in Pudding Lane and stopped at 'Pie Corner', it was suggested that the devastating conflagration might have been God punishing the city for the sin of gluttony. The Golden Boy (originally known as the 'fat boy' or 'naked boy') was thus a reminder of the mortal danger from over-indulgence and you might be able to read the inscription on the image above: "This boy is in memmory Put up for the late FIRE of LONDON occasion'd by The Sin of Gluttony, 1666"
Until 1910 a pub called the Fortune of War occupied this site and the Boy was on the outside wall of the inn (in fact, it seems that before being called 'Fortune of War' the establishment was known as 'The Naked Boy'). This pub, over the road from Bart's Hospital, had a less pleasant sideline as a 'showroom' for corpses.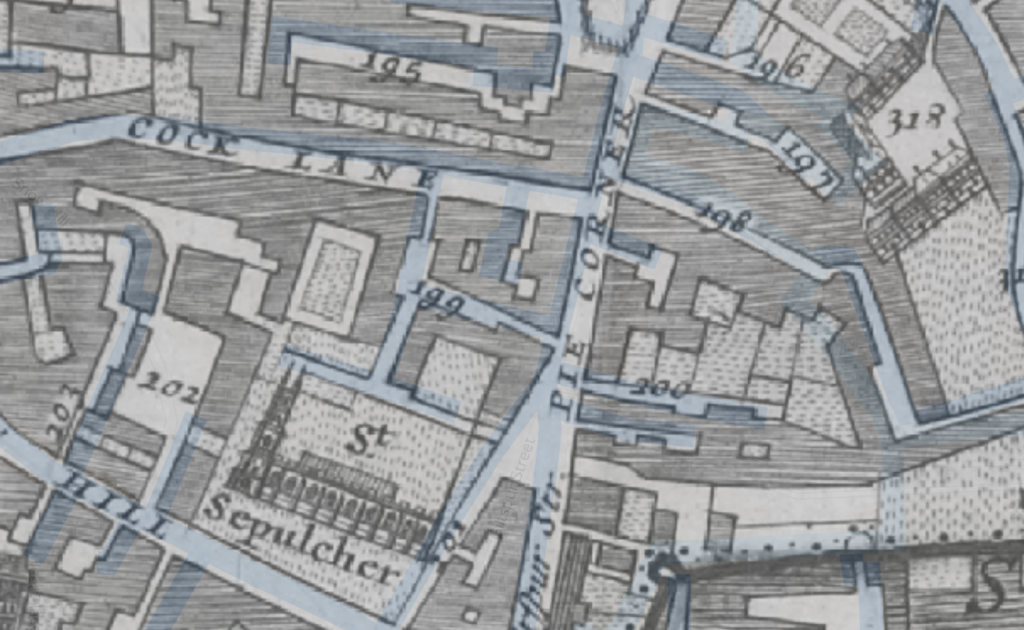 Until the 1832 Anatomy Act it was extremely difficult for medical students to acquire bodes for dissection, a gap in the market filled by 'resurrectionists'. These were grave robbers*, digging up the newly-buried to sell; the church of St Sepulchre 100 yards down the street has a guard's Watch House at the entrance to its churchyard to discourage such practices. In a back room at the Fortune of War newly acquired corpses were displayed and the surgeons from Barts would come to the pub to make their selection.
*(A number of resurrectionists saved the time and effort involved in robbing graves, and ensured a steady supply of new bodies by simply murdering strangers from the street.)
---
To get a monthly email of my latest blog posts, just put your email in the box below.
Or follow my facebook page for London posts and photos. And I'm also on Instagram.