Hard by St Paul's at the entrance to Paternoster Square, is Temple Bar gate.
Like the Cathedral, this is the work of Sir Chirstopher Wren, and it is also built from the same Portland Stone. It was constructed between 1669 and 1672 as part of the general improvement works to the City of London following the Great Fire of 1666.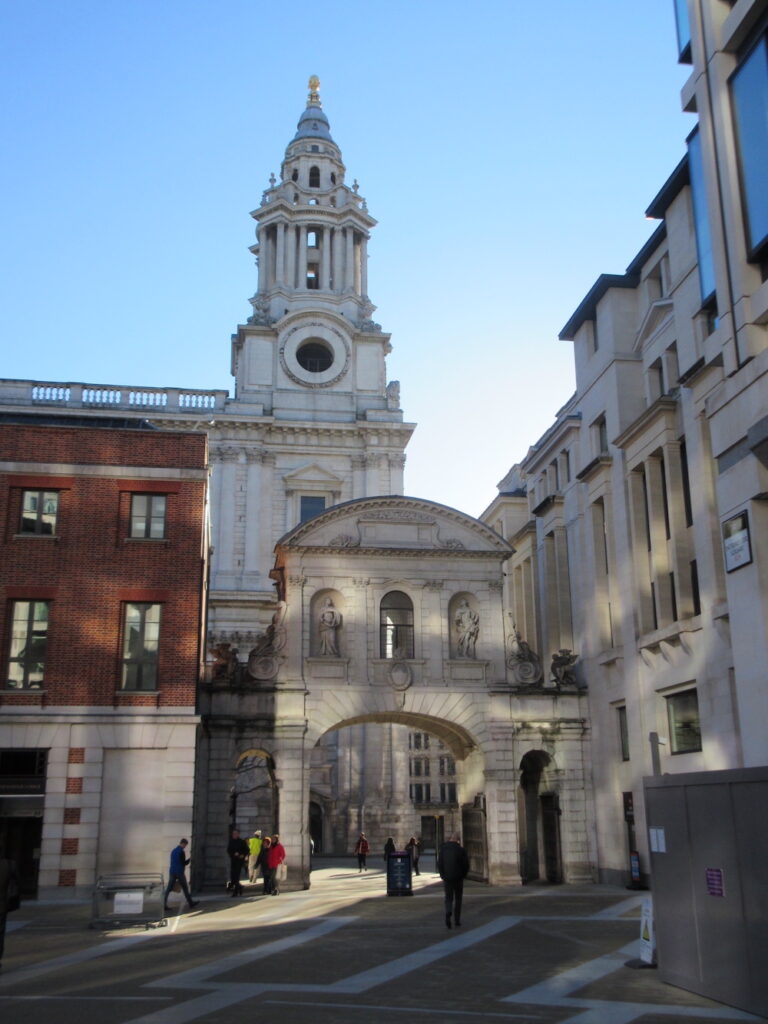 'Temple Bar', however, precedes Wren's structure by several hundred years, as it was originally one of the extramural barriers (beyond the City walls) that delineated the area controlled by the City Corporation. Temple Bar – the name coming from the Temple Church in the Inns of Court – is where Fleet Street meets Strand, and some half a mile to the west of the cathedral.
Wren's Temple Bar gate had a central arch for traffic, with two smaller arches on each side for pedestrians. The statues on the gate celebrate the Stuart monarchy; it was built during the reign of Charles II, who had been restored to the throne in 1660 following the Cromwellian interregnum. Charles II and his father – the "king and martyr" – Charles I are on one side, with Charles II's royal grandparents James I and Anne of Denmark on the other.
By the middle of the 19th century the structure was not in good repair and, more importantly from the point of view of the City fathers, it was perceived as being a bottleneck to the vastly increased road traffic. So in 1878 Wren's gate was taken down and its place marked with Horace Jones's Temple Bar Memorial. (Jones was the City architect. Among his works are the market buildings of Leadenhall, Smithfield and Old Billingsgate markets, and Tower Bridge.) Wren's gate was bought by the brewer Henry Meux and reerected at his country pile Theobold's Park in Middlesex.
In 1984 the Temple Bar Trust bought the gate from the Meux Trust for £1 with the ultimate aim of returning it to the City. This was achieved as a result of the redevelopment of Paternoster Square at the turn of the millennium, with the 11,000 stones removed from Theobold's Park in 2003 and rebuilt on its present site the following year.
The Temple Bar Trust still exists and actively fundraises, and plans to open the room on the second storey of the gate for events and will be the home of the Sir Christopher Wren Dining Club, who will be able to have "17th Century Feasting" in the space.