If you've never been to Westminster Abbey (or it's ages since you last visited), now is the perfect time to go.
The absence of foreign visitors and coach tours might be hitting some of us in the wallet, but the usually overcrowded cultural attractions – the Tower of London, the British Museum, our other museums and galleries, cathedrals – are suddenly oases of calm. You are unlikely to get this opportunity again, so go visit! You will come away refreshed and uplifted.
Ordinarily in high tourist season I'd be in the Abbey two or three times a week, sharing the coronation church with thousands of others and queuing for a glimpse of treasures such as the Coronation Chair or Scientists' Corner.
This week I went in for the first time since February 2020 and ambled around, seeing things I'd never noticed before, glimpsing perspectives and patterns of light and shade I'm usually too preoccupied to take in.
One of these was the tomb and memorial of Thomas Thynn(e) of Longleat, known as 'Tom of Ten Thousand' because of his great wealth, who was "barbarously murdered" on 12 February 1682, in Pall Mall. The previous November Thynne had married Lady Elizabeth Percy (who, although she was just 14 years old, was already a widow), the daughter of the 11h Earl of Northumberland.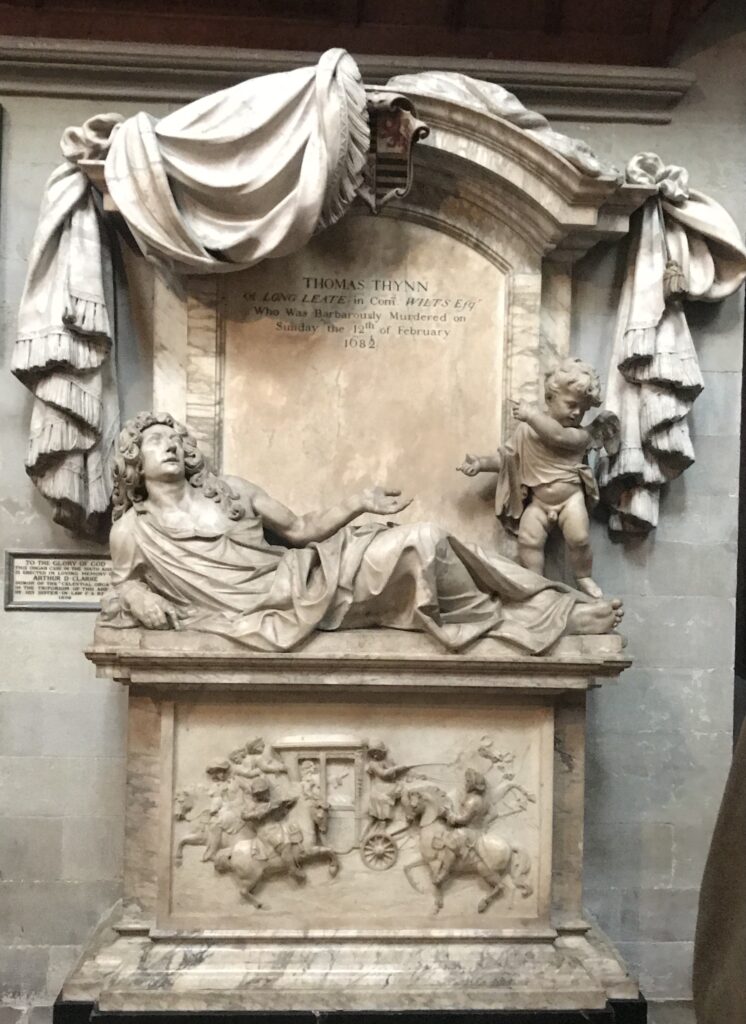 Lady Elizabeth was also being courted by Swedish nobleman and adventurer Count Karl Johann von Königsmark, who hired three hitmen to take out Thynne. As is shown on a frieze on the tomb, Thynne's coach was held up by two of the assassins, and the third shot him.
The subsequent trial found the three – Christopher Vratz, John Stern and Charles George Borosky – guilty of murder, and they were hanged on 10 March (it's remarkable how swift justice was in the 1680s isn't it? Crime, trial and execution all in four weeks.) von Konigsmark was acquitted (due, according to diarist John Evelyn, to the corruption of the jury). The count fled overseas before Lord Cavendish, a friend of Thynne's, could challenge him to a duel. He died four years later in Nafplio, of wounds received while fighting in the Sixth Ottoman-Venetian war.
As to the now twice-widowed Lady Elizabeth, just five months after the murder she married the 6th Duke of Somerset, with whom she had seven children, and becoming a friend and favourite of Queen Anne.