You've probably heard of the Tower of London's 'Ceremony of the Keys' that takes place just before 10pm every day. This is when the Tower is officially locked up for the night, and the Ceremony has taken place every day since the 1300s (or 1500s – as with so much to do with the Tower, the stories differ). The Chief Yeoman Warder ("Beefeater") is escorted by four guards from the Tower detachment and locks the outer, Middle and Byward gates.
As this group returns they are challenged by a sentry: "Halt! Who comes there?" he shouts.
"The keys" replies the Chief. "Whose keys?". "Queen Elizabeth's keys!" "Pass Queen Elizabeth's keys and all's well."
The 'key party' then moves through the gates of the Bloody Tower and meets the rest of the Tower guard. "God preserve Queen Elizabeth" shouts the Chief Yeoman Warder. The clock then strikes 10, a bugler plays the Last Post, and the guard marches back to the barracks. (Visitors are then let out through the gates that have been so ceremoniously locked ten minutes before.)
It's said that the only time the Ceremony has been disrupted is during the Blitz, when a bomb knocked the Chief Warder off his feet; he dusted himself down and carried on. (However, see the note above about the Tower's tall tales.)
One can't take pictures of the ceremony, but I have found a video of it, made in 1991 at a UN conference in London when Prime Minister John Major invited various VIPS along to watch.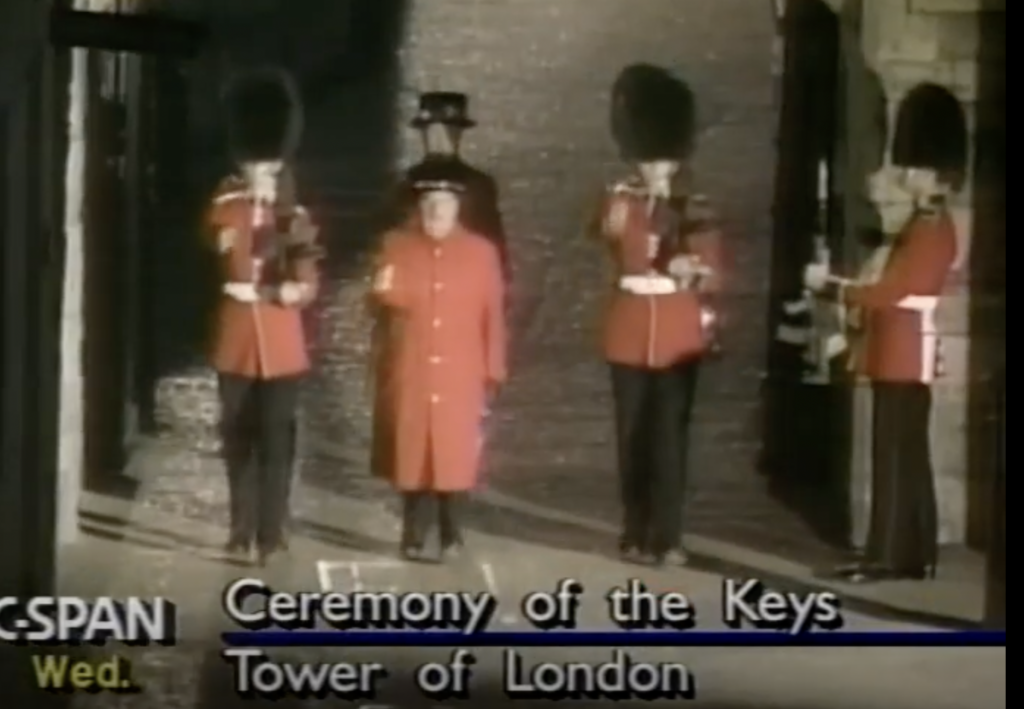 In theory anyone can book tickets for the Ceremony (here's the page), but in practice it's virtually impossible – the tickets sell out within seconds of becoming available. However, you can get the morning version of the ceremony if you book a private tour through an agent (e.g through my friend Henrietta Ferguson), as at 8:45 each day (9:45 on Sundays and Mondays) the Tower now does an Opening Ceremony.
This doesn't have the history of 'the Keys' (it is a modern invention), but one gets to sneak in the back door of the Tower and have one of the Beefeaters tell one about the history of the Tower as the Chief Yeoman Warder is escorted by the guards to unlock the main gates. It's quite a good feeling to wander through the castle before hours and luxuriate in the fact that one has the place virtually to oneself.
There's a bit of a vid below of the guards marching along to meet the Chief Warder (whose picture is at the top of the post), prior to the ceremony beginning.