It's the platform for a trillion photos – to the west is Buckingham Palace, framed by trees, and look east to see Horseguards, the London Eye and the chateau-style roofline of Whitehall Court. Try to cross on a day when there is the Changing of the Guards and it seems like half of humanity is being funnelled through its narrow footway.
This is the 'Blue Bridge' that spans the lake in St James's Park, a blandly functional crossing erected in 1957, made from two concrete beams, with railings painted a sky blue (hence, of course, the name).
It was designed by the Ministry of Works' chief architect, Eric Bedford. Not a particularly famous name, but you will almost certainly have seen at least one of his other works as it was Bedford who designed the structure that some of us still call the Post Office Tower (it's now known as the BT Tower) and which was once the capital's tallest 'building' at some 175m.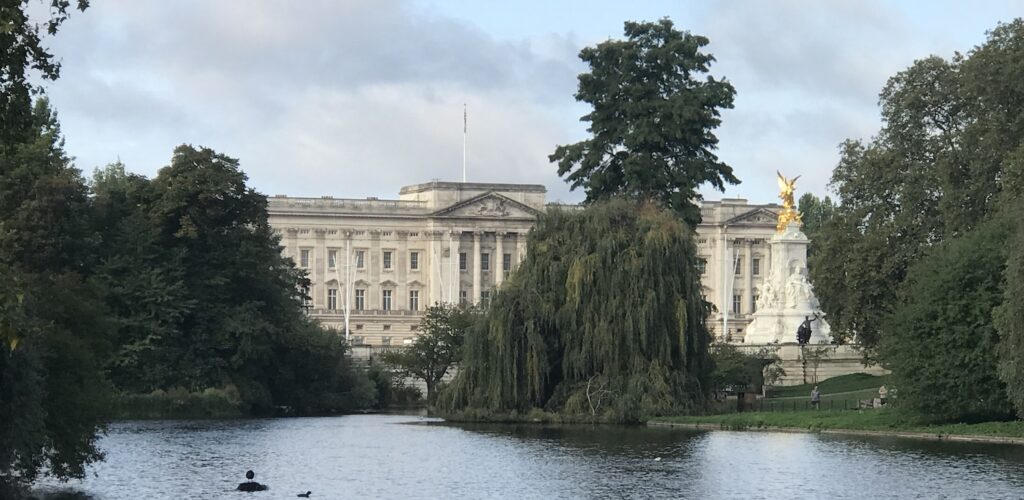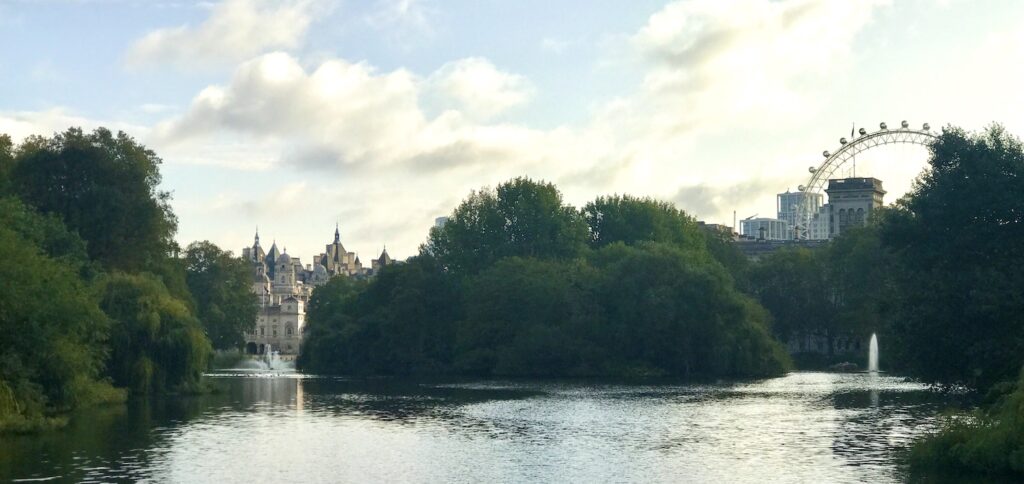 Bedford's new bridge replaced an iron suspension bridge that had opened in 1857 which was known as the 'Duck Bridge' (presumably because, as with the modern version, it was a good vantage point to view the wildfowl on the park lake). In 1956 the cost of repairing this (rather more striking) bridge was felt to be too high and, despite questions in Parliament, today's modernist survivor was installed.
There was an even earlier bridge, a wooden one built in 1814 that crossed an earlier version of the lake (a more regular water feature that was known as 'The Canal'). This was by John Nash, favourite architect of the Prince Regent who designed Carlton House Terrace, Park Crescent, Marble Arch and who completely remodelled Buckingham Palace in the 1820s. Nash is also responsible for landscaping St James's Park in the 1820s, moving it from a formal, 'continental' style to the rus in urbe that we see today.
Nash's bridge was part of the 'Grand Jubilee*' celebrations of 1814 that marked 100 years since the accession of the House of Hanover and the recent signing of the Treaty of Paris and the defeat of Napoleon (this last bit turned out to be a tad premature).
[*The Jubilee celebrations sound glorious – there were cannonades, reenactments of naval battles on the Serpentine, and during fireworks in Green Park a balloonist dropped treats onto the crowd below.]
In the centre of the 'chinese-style' bridge was a seven storey pagoda which caught fire during the festivities. As it burned the crowd cheered, in the mistaken belief that this was part of the entertainment. Unfortunately the pagoda could not be saved, although the bridge survived until 1825.