Spanning the river from St Paul's Cathedral to the Tate Modern, London's gallery of modern and contemporary art housed in the former Bankside power station , is the Millennium Bridge – known to Londoners as the 'wobbly bridge', for reasons I'll explain in a moment.
Designed by the sculptor Sir Anthony Caro in association with Foster and Partners architects and Arup engineers, the Millennium Bridge is a 330 metre long steel suspension footbridge with aluminium decking. It was conceived as a 'blade of light' across the river and used an innovative new technique which gave it a much lower profile than traditional suspension bridges.
It cost £18 million and opened in June 2000 – a couple of months late, but no big deal – but then the problems started. It swayed when people walked on it. And once it started swaying a bit, everyone on it started walking in step to the sway, which made it sway even more. So two days after opening, it closed.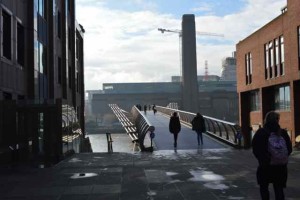 The architects blamed the engineers and the engineers blamed the architects, and it took nearly two years and another £5 million to sort out the problem. But even though it doesn't sway any more, it's still known as the 'wobbly bridge'. And probably will be for ever.
The bridge is now owned and maintained by the Bridge House Estates Trust, who took it over in 2002. The Trust can trace its origins back to at least the 13th Century when the City of London took over responsibility for old London Bridge. They are now own Tower Bridge, Blackfriars and Southwark, as well as the Millennium Bridge.
The Trust came from a time when citizens of London gave money and land "to God and to the bridge" and it also got money from rents and tolls on London Bridge which had shops and houses built on it. And the Trust became very wealthy – its total assets are now over £500 million and its annual income is close to £50 million.
That means that the five bridges don't take a penny in public money for repairs, but £50 million is a lot more than you need for maintenance, even if some of them need their wobble fixing, so in 1995 the City Bridge Trust was set up. Until then the Bridge House Trust could only spend its money on the bridges, but the new charitable arm allows it to give money to causes around London that have a role in 'bridging' – they've defined this quite broadly – bringing people or communities together. Last year they gave £15 million in donations – everything from a couple of thousand to help fund an apprenticeship at the Cockpit Theatre, to £400,000 for Epping Forest voluntary schemes.
One more thing about the Millennium Bridge. At its northern end is the City of London School, an independent boys' school which is one of three owned by the City of London Corporation. Former pupils (or 'citizens' as they're known) include Kingsley Amis, Julian Barnes and Daniel Radcliffe – Harry Potter himself. And in the movie Harry Potter and the Halfblood Prince, the Millennium Bridge is destroyed by Death Eaters (which rather puts its wobble in perspective).